With us, you never have to wait 4 to 6 weeks to get your scooter. If it is in stock, we will conduct quality checks within 1-2 business days and shipping takes between 2 to 4 business days, depending on POST AG. Get your scooter within a week or so.
Shipping is free for all orders over CHF 200,- and total weight up to 30kg.
When you spend such a significant amount of money, you want the best support. Although we are not a big company, our team is extremely dedicated to every single rider. Send a message through our 24/7 live chat on the bottom right bubble of our website, someone will always be around to help you. Try it!
We work together with the financing partner Bob.ch, which enables us to offer you interest-free installment payments. In return, bob.ch receives a share of the profit from us. We deliberately chose this path to save you extra costs and to enable everyone to switch to e-mobility.
Yes, you pay no more with monthly installments than if you pay everything at once. Our 0% financing offer is completely interest-free for you.
*Limited to 20 km/h, unlimited 35 km/h (not street legal)
*Range may vary depending on rider weight, riding style, terrain and tyre pressure.
all core components
reach IPX7
waterproof level

This scooter is one of the most waterproof models on the market and has been certified IPX7, the highest waterproof standard. The S1-C Pro is equipped with double front suspension , an inflatable 10 inches tire at the front and a solid wheel at the rear which will ensure comfort during use on the one hand and then on the other hand. It will avoid punctures on the rear wheel.
S1-C PRO is specially designed for consumers who travel short distances in cities, which will effectively enhance mobility. With a 13Ah battery, you will be able to reach 50 km of autonomy in eco mode (depending on certain conditions) and drive up to 35 km/h (limited to 20 km/h). Thanks to its 500W DC motor, it will be ideal for use in urban areas.
The Kuickwheel adopts a beautiful finish with a certain attention to detail. Between the left and right handlebars is a display that futures the APP unlocking system. A horn is placed on the handlebar, as well as a turn signal lights, the trigger for the accelerator. The Kuickwheel S1-C PRO has also built-in LED front head light, quick folding mechanism for easily fold in only 3 steps.
Smart designed handlebar is fitted with non-slip and anti-bacterial grips, front wheel mechanical brake lever, turn signals switch, LED dashboard and accelerator. 
In order to ensure the safety of riding at night, S1-C PRO is equipped with a 1.1W LED headlight that can effectively illuminate the surrounding environment. The built-in design not only has a beautiful appearance, but also guarantees that the headlight is not easily damaged.
S1-C PRO is equipped with high-end full LED digital rider dashboard can provide a clearer display even under strong sunlight outdoors.
All the riding data, such as riding mode, speed, mileage and remaining power, or even alarming can be transmitted and displayed on the dashborad in real time.
The unique unlocking function of GREEN DRIVE App makes S1-C more secure.
You will receive 2 NFC unique cards for you to lock or unlock your electric scooter. No chance the scooter can be used without the NFC card!
Originally developed for the Swiss market,
it boasts a powerful 500W brushless motor
which has no problem going up the hill
(up to 25° climb) and at a cruise
speed of 20 km/h (35 km/h).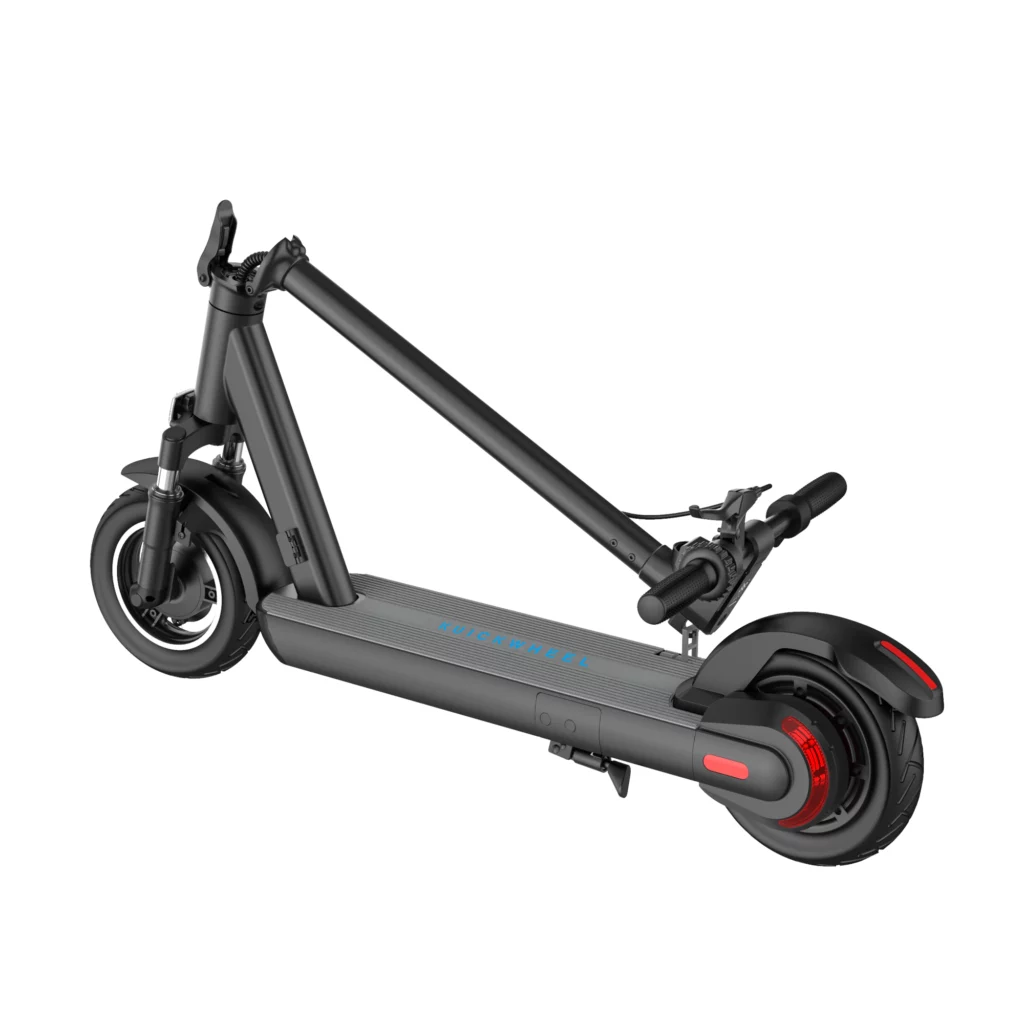 Whether traveling in a congested city or going out on weekends to relax, having a portable electric scooter will greatly increase the convenience of life. S1-C PRO has a quick folding mechanism, only 3 steps, it can be easily folded so as to be convenient to carry.
360 Degrees Rotation Electric Scooter Bell
DUAL HYDRAULIC​ FRONT SUSPENSION
waterproof & dustproof charging ports
A stable platform crafted from aircraft grade aluminum offers the smoothest and most stable riding experience for a low budget e-scooter on the market. 
Latest production methods like hydro-forming, drop forging, extrusion, CNC processing and gravity casting are used for frame production.
Dual front Hydraulic suspension will ensure you won't be bothered by pot holes and other kind of road disturbances. S1-C PRO is equipped with a reliable dual-arm front suspension fork, which can effectively reduce the fluctuations from the ground, so that it can adapt to different terrains and provide excellent comfort.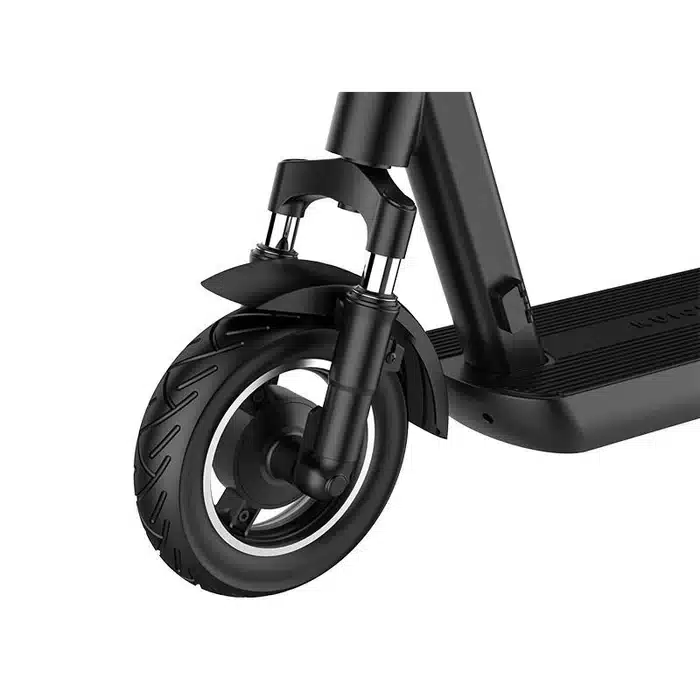 The S1-C PRO uses an integrated LED tail light group, including tail light, brake light and turn signal. When braking, the tail light on both sides continues to highlight, and the corresponding side light flashes continuously when turning. This ensures that the rear can clearly identify the riding status and ensure riding safety.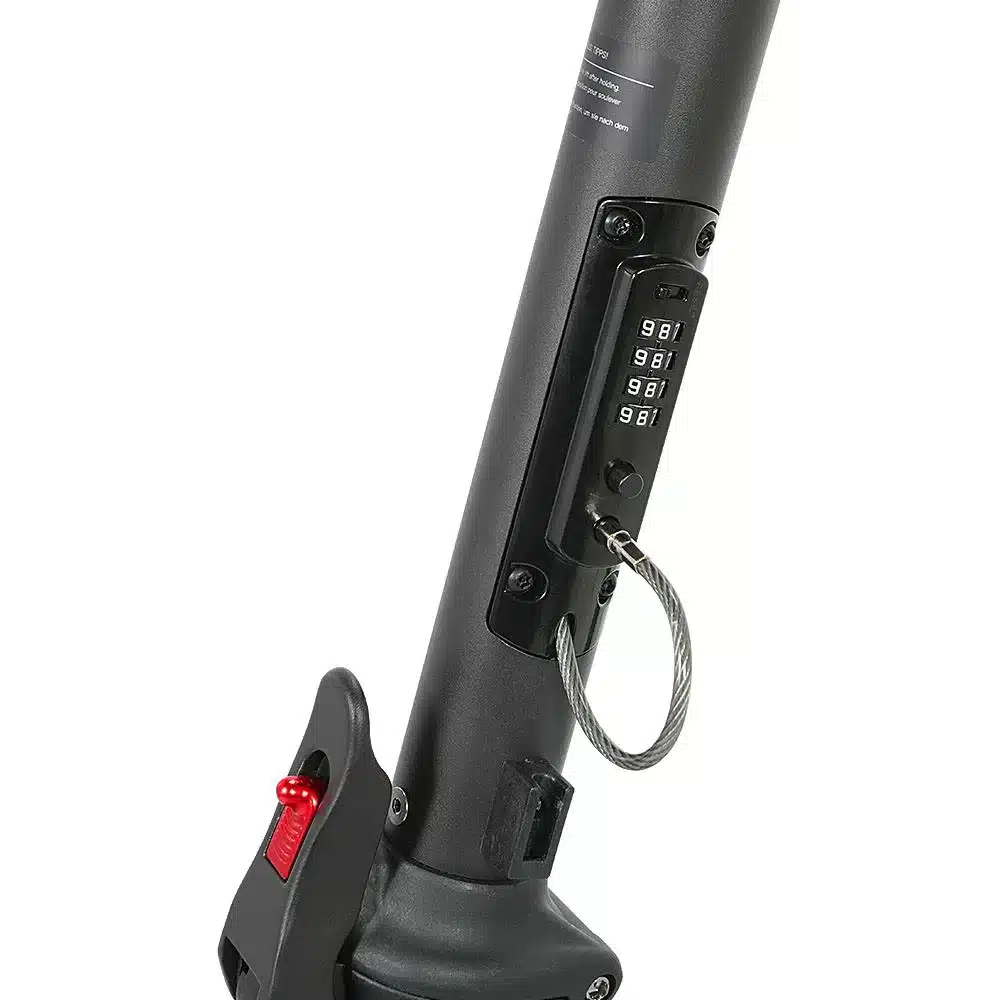 If you want to add double protection to your beloved S1-C PRO, we also specially designed a code lock for you. The exquisite and practical combination lock allows you to park in a proper position when you go out and eliminate unnecessary worries.
18650 cells powerful endurance with a large capacity
and high power supply for a high performance and
durability.
Six battery intelligent management system protects
the battery and ensures a riding safety.
Smart Battery Management System
INTELLIGENT PROTECTION AND NO MORE OVER-TEMPERATURE 
With a smart battery controller, the BMS provides accurate calculation of the battery life and shows the percentage of charging, meanwhile, the discharging of electricity, provides all the safety assets in order to ensure safety and stability for the battery.  
output over-voltage protection
output over-current protection
output over-circuit protection
input over-voltage protection
input over-current protection
over-charging voltage protection
over-charging current protection
over-discharging voltage protection
over-discharging current protection
The battery takes only 5 hours to charge and powers the 500W motor which can handle up to 25 degree hill climbs and 50 km range.
Worry about the puncture of the pneumatic tire and annoying inflation? S1-C PRO uses brand-new rear-honeycomb solid tire and front air tire. This design ensures comfort and aesthetics.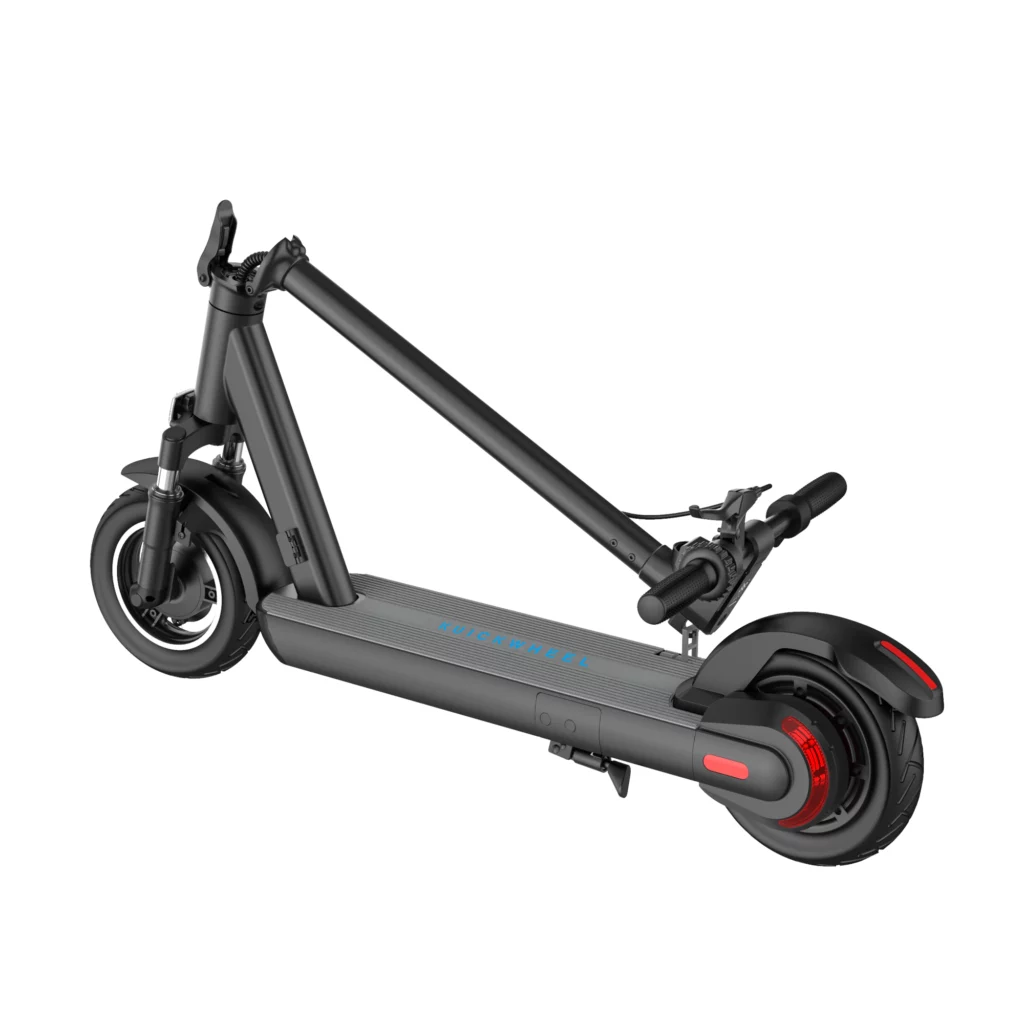 The Kuickwheel S1-C PRO
 is a fairly portable machine. The stem folding mechanism is a collar style with two stem clamps that require some play to adjust and secure. The stem clips to the deck for easy carrying, but the handlebars do not fold down.